Space Invaders (Windows)
The software provided on this page is without warranty and provided "as is" for personal use. The user should use caution and run this software at their own risk. Resale or commerical use of these products is not permitted. The software on this page was written as practice and is provided here only as sample programs for those who may find them useful. While I will accept comments, bug reports and suggestions the software is considered legacy and is not under any on going development or support.

Almost like the old classic game of Space Invaders. 50 Levels, score points get extra lives. There is also a cheat code that will let you get 1000 lives and go to any level, see if you can figure it out. Instead of having space ships fly by, we have 3 different birds that fly by. The speed varies from system to system, it depends on your Operating System, the speed of your computer and your video drivers/card. This is my second windows program, so don't expect too much.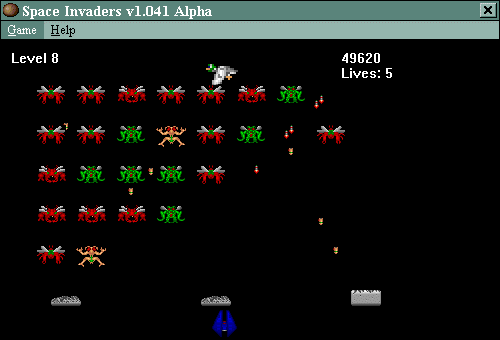 Download
Year 1998
Operating System Windows