Amelia's Big Adventure
The software provided on this page is without warranty and provided "as is" for personal use. The user should use caution and run this software at their own risk. Resale or commerical use of these products is not permitted. The software on this page was written as practice and is provided here only as sample programs for those who may find them useful. While I will accept comments, bug reports and suggestions the software is considered legacy and is not under any on going development or support.

A 2D scrolling game I never finished where you capture cats, dogs and the alphabet. Its a kids game. Includes a level editor. I did not draw the graphics (I'm not an artist!) aside from drawing the cat, dogs and Amelia herself in the game. I downloaded the tiles as part of a free tile library. The sources are available under the sources section of this site.

Original Without Fixes/Updates

The below default binary has updated graphics for cats and dogs as well as improved speed performance (it would play too fast on newer computers).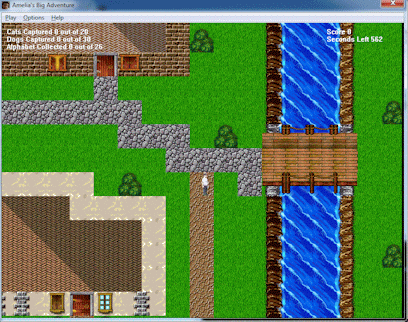 Download
Year 2006
Operating System Windows